Fully covered design of our gimbal is suitable for use in various weather conditions. Adaptable to helicopters, fixed-wing aircraft, maritime, and ground-based applications. Surface treatment is resistant to corrosion, salt, humidity and low temperatures.
Parameters:
Azimuth:

n×360°

Elevation

:

+10 ° – 180°

Positioning speed:

0-18° sec

Weight:

9 kg

Operating temperature:

-30 to +70°C

Storage temperature:

-55 to + 85°C

Input:

18 – 38 VDC, max. 2 A (6° with temperation)

Control Box: 

Ø

 236 x 50 mm

Communication protocol

:

RS 485
Norms:
RTCA DO 160 * In progress

Protection rating:

IP68
Design and manufacturing of load test equipment for testing and development of a new generation of frequency converters.
Continuously adjustable load designed as a back-to-back (motorgenerator) testbench with two BLDC motors with an output of
2×80 kW, to adequately simulate real operating conditions.
SCOPE OF WORK
Concept design  – feasibility study
Research, selection, and verification of suitable components – power, measuring and control
Design and verification – FEM, modal analysis of the structural design
Design and manufacturing drawings
Manufacturing and installation of the device
Commissioning
Technical documentation, operation manual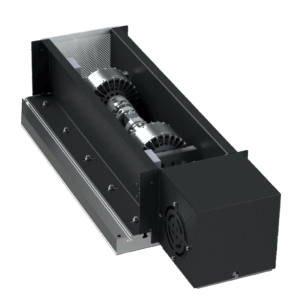 MAX. TORQUE: 400 Nm
MAX. SPEED: 2,800 RPM
POWER: 2×80 kW
SCOPE OF WORK
Cyclic testing of switching elements
Twist/rotational motion including rotation angle
Tensile and compression test
Measurement of analog and digital signals with selectable levels
Measurement of state variables, including bus decoding
Measurement of button oscillation and response
Cyclic and reliability tests with statistical evaluation
Electrical strength tests on a stressed specimen
Implementation of special communication protocols for selected sensors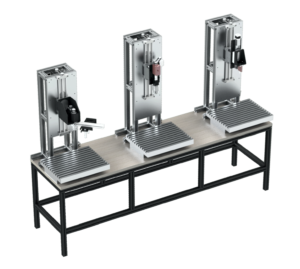 COMPLIANT WITH SELECTED STANDARDS
Safety requirements for electrical, measuring, control, and laboratory equipment
Safety of machinery
General principles for design
Risk assessment and risk reduction
Environmental Conditions and Test Procedures for Airborne Equipment
Safety requirements for electrical, measuring, control, and laboratory equipment.
Safety of machinery, General principles for design, Risk assessment and risk reduction.